(CNSNews.com) – Unhappy with the U.S. and allies' focus on upholding a "ruled-based order" in international affairs, China and Russia are helping to spearhead a response at the United Nations by mobilizing like-minded nations around the flag of purportedly upholding the U.N. Charter.
The "Group of Friends in Defense of the Charter of the United Nations," an initiative launched earlier this year, held its first ministerial-level meeting on the sidelines of the U.N. General Assembly high-level session last month.
In a subsequent letter to U.N. Secretary-General Antonio Guterres, 17 U.N. member-states plus the "state of Palestine" asked him to circulate a political declaration they adopted, and noted that it remains open for other members to sign up to.
More than half of the founding members of the "group of friends" are targeted by U.S. sanctions – Belarus, China, Cuba, Eritrea, Iran, Nicaragua, North Korea, Russia, the Assad regime in Syria, and the Maduro regime in Venezuela.
The governments argue that unilateral sanctions and the threat of force are contrary to the U.N. Charter, whose principles, they say, are "timeless" and "indispensable" to "achieving a more peaceful, prosperous, just and equitable world."
The declaration said the ministers met to assess "recent developments in the international arena, including challenges and threats to the Charter."
"We vow to spare no effort in preserving, promoting and defending the prevalence and validity of the Charter," the signatories said. "We express our serious concern at the growing resort to unilateralism."
Renewing a firm commitment to "reinvigorated multilateralism," the governments voiced support for "nations and peoples subjected to unilateral and arbitrary approaches."
They further reiterated the "inalienable right of peoples to self-determination, as well as the territorial integrity and political independence of all nations."
The U.N. Charter prohibits "the threat or use of force against the territorial integrity or political independence of any state," while providing an exception for self-defense in the event of an armed attack.
The same document states that one of the U.N.'s main objectives is "promoting and encouraging respect for human rights and for fundamental freedoms."
Of the 18 signatories to the "group of friends" initiative, only one (Saint Vincent and the Grenadines) is graded "free" in Freedom House's annual assessment of countries' political rights and civil liberties, and one (Bolivia) is graded "partly free." The rest are all ranked as "not free."
"Trusting China, Iran, Syria, North Korea, Cuba and Venezuela to be defenders of the United Nations Charter is like asking Col. Sanders to babysit your chickens," Hillel Neuer, executive director of the non-governmental organization U.N. Watch, commented in response to the initiative.
'A fairer international order'
The "rules-based international order" has been broadly defined as a framework of liberal political and economic norms established after World War II, centered on multilateral institutions, international trade, and promotion of human rights.
As recently as 2018, G20 leaders at a summit attended by Presidents Trump, Vladimir Putin, and Xi Jinping included in a declaration a "commitment to work together to improve a rules-based international order that is capable of effectively responding to a rapidly changing world."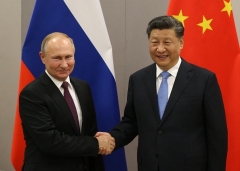 Russian President Vladimir Putin with Chinese President Xi Jinping in 2019. (Photo by Mikhail Svetlov/Getty Images)
Source : https://www.cnsnews.com/index.php/article/international/patrick-goodenough/us-sanctioned-regimes-un-push-back-against-rules-based
622