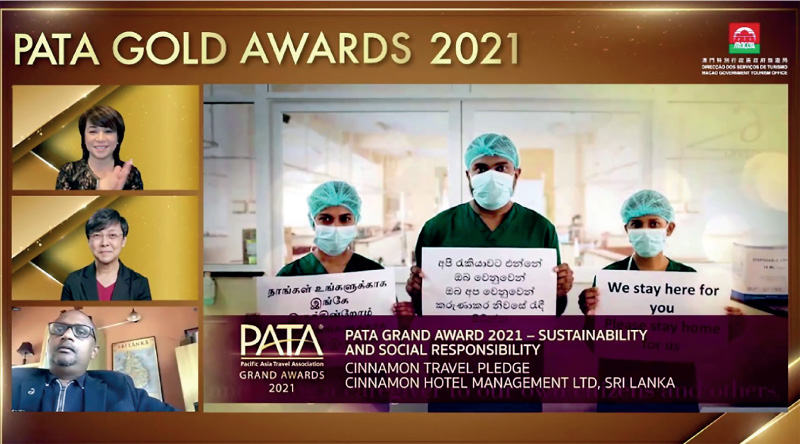 ---
Cinnamon Hotels & Resorts – Sri Lanka's leading hospitality brand – was awarded the PATA Grand Award at The Pacific Asia Travel Association (PATA) Gold Awards 2021 under the category of Sustainability and Social Responsibility for the 'Cinnamon Travel Pledge' initiative. The hotel chain is the only Sri Lankan organisation to be recognised at the award ceremony this year.  
PATA Gold Awards 2021 was open to members and non-members of the Association, attracting a total of 113 entries from 51 travel and tourism organisations and individuals. The ceremony presented a total of 18 Gold awards and two Grand Awards. The PATA Grand Awards were presented to outstanding entries in two principal categories: Marketing, and Sustainability and Social Responsibility which were awarded to Macao Government Tourism Office and Cinnamon Hotels & Resorts respectively.
The 'Cinnamon Travel Pledge' initiative began on 17 June 2020, as means of appreciating Sri Lanka's courageous healthcare workers – offering 2,000 complimentary full board holiday packages, for one night at nine Cinnamon Hotels & Resorts properties across Sri Lanka. The primary objective of the campaign was for the hospitality provider to use the resources available to them in a meaningful manner that redirected the traditional holiday getaway into a literal escape and rejuvenation for 2,000 essential workers and their families.
Guided by one of the core values of the brand, "I will care," The Cinnamon Travel Pledge was yet another opportunity for Cinnamon Hotels & Resorts to understand and care for the community around them and help elevate their spirits and revive their morale with lifestyle experiences that are infused with kindness and warmth.
Cinnamon Hotels & Resorts Vice President Marketing and Events Dileep Mudadeniya stated: "We are pleased to have been recognised for our effort to uplift a nation and its healthcare workers and we graciously accept the PATA Grand Award in Sustainability and Social Responsibility. Sri Lankan hospitality, generosity, and kindness are iconic values that govern our island way of living and have become a part of the Cinnamon Hotels & Resort brand ethos. Since the beginning of the COVID-19 global pandemic, our sentiments of caring and helping each other have increased in waves and one particular group of people has been a testament to these values, more than ever before – the front-line workers."
This award is the latest in a slew of recognitions received by Cinnamon Hotels & Resorts for 2021, including being named under LMD's 'Most Awarded Hall of Fame Top 50, 'Best of the Best – Hospitality Sector', and the 'Most Valuable Hospitality Brand in Sri Lanka'.
Cinnamon Hotels and Resorts is at the forefront of Sri Lanka's hospitality sector with a portfolio of 15 hotels and resorts in the 4- and 5-star category in both Sri Lanka and the Maldives with over 2,400 rooms in its inventory. The hotel chain has distinguished itself as an empathetic brand having the customer, employees, and the community at the centre of its business decisions. Marketing strategies implemented by the company benchmark international methodologies while seamlessly integrated operations are put in place to deliver promises made. 
Adding to its portfolio, the much-anticipated project valued at $ 1 billion, Cinnamon Life Integrated Resort will be opening in mid-2022.
Source : https://www.ft.lk/travel-tourism/Cinnamon-Hotels---Resorts-win-PATA-Grand-Award-2021/27-723064
551